Odoo is the best positioned ERP software in the market which is most downloaded and demanded nowadays. It is very comfortable for any industry need and company size with a powerful wide scope, usability and flexibility approach. Odoo has more than 800+ partners in more than 120 countries around the globe and also it is growing. Odoo certified partners ensure that the resources and knowledge required to offer Odoo implementation services. An Odoo certified partner is able to implement Odoo to enterprise-wide initiatives with their sufficient level of knowledge and appropriate approach. The Odoo certified partners have the right tools to start their activities and necessary commercial assistance with Odoo. They have the Odoo Enterprise GitHub repositories for all their developers and the ability to report bugs to be fixed by Odoo on behalf of their customers. They have access to discuss strategic, sales and service issues. They will upgrade the training sessions when a new version is released. Also, they have an access to the partners portal, Odoo sales training session and to the Odoo E-learning educational platform.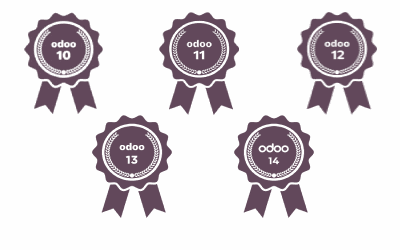 Odoo partners are well trained, dedicated companies that officially collaborate with Odoo to deliver services in their region. They are categorized by a transparent ranking system based on the number of customer references. The higher the references, the better the ranking. These partners are well informed about all the latest news about the system and thus the process of possible problem solving is much shorter and more efficient. Global Creative Concepts Tech Co Ltd [iWesabe] is Odoo Gold Partner and certified for all versions from V10 to V14.
We encompass the planning, development, implementation, and application of existing and new technologies and systems that provide for the process of collecting, storing, and organizing information for its future retrieval, exchange, use, and delivery. Knowing and understanding a customer's unique needs and being able to fulfil them not just to their satisfaction but also often beyond expectation is the hallmark of a customer-centric organization. We are a one-stop web solutions company committed to achieving and exceeding this level of performance at all times. We are single-mindedly devoted to providing the most reliable and highest-quality products and services in the realm of IT services.
iWesabe have years of vital experience in the field of OpenERP/ODOO and we have been active in the same field since 2007 and around a decade we have been offering our quality assured services to the global clientele. We are providing the industry's best quality services on an international platform. We know that nothing in this world can beat superior quality services; no matter what and which field it is. With our highly experienced and devoted team of professionals who works their best to provide the most dedicated IT Solutions to clients. Due to the virtues like dedication, timely services and commitment our team is unbeatable for offering the industry's most advanced, high quality yet exceedingly affordable IT Solutions.
iWesabe offers an end-to-end Odoo ERP implementation and works strategically to get the best result out of the ERP implementation. A clear understanding of organizational requirements and future strategy is the most preferred way to achieve the best results. Evaluate current pain points and assessing the right solution for better functionality and productivity.



We go through your current organization business model and amend the system to work according to your business model and according to best business practices for the processes. With all the vital steps complete, we proceed with the Odoo ERP deployment and make it a success for you. There are many factors that make us the most admirable and highly accredited names in the worldwide Odoo/Open ERP industry today. We have full faith in our hard work, dedication, passion, and commitment. As a result of that, we offer satisfactory services and result oriented to our clients. Due to punctuality and high discipline in our work, our services are the most reliable ones for our clients. Our mission is to only serve the best of the best to our clients. iWesabe claims to provide the industry's top-notch quality Odoo/OpenERP at pocket-friendly cost and quality work. Our software either solve problems and challenges which your team faces or help in enhancing and augmenting the business growth effectively.
We provide highly affordable custom software for big and small companies. By applying modern design principles, in conjunction with the latest in the cloud, desktop technologies and mobile adapt solutions that connect co-workers with each other and companies with their customers, simplify and accelerate the business process and lowers cost. We offer end to end Odoo ERP implementation. Understanding organisation requirements and future strategy is the better way to get the best results. We understand the value of time for any business. Our work ethics dictates the implementation process and goes through series of steps to get the best result. We go through your current organisation business model and modify the system to work according to the best business practices for the processes. With all essential steps complete, we proceed with the Odoo ERP deployment and make it a great success for you.
Therefore the successful implementation of Odoo Training to end-users and ERP administrators are also a vital part. After implementation of Odoo, Our experts can give training on the minute detail of every aspect like Odoo Functional flows, Email Configuration, Workflows, Server Actions, Reporting etc. to end-users. Our trainers have in-depth and diverse knowledge of Odoo technical side by working in different modules of Odoo. Our expert team has vast experience delivering Odoo training on the client sites, as well as the remote site via various communication mediums like Skype, Team viewer, Video and Documents. As a company or organization, it is vital to understand the different aspects of the Odoo ERP training. 
These are the main factors that help us to become the first partner in the Gulf region to get certified in Odoo versions 10 to 14.