Customer Relationship Management ERP Software
Customer Relationship Management
This Modules enables the sales team to intelligent and efficiently manage enquiries, leads, opportunities, emails and phone calls.it manage key tasks such as communication, identification, prioritization, assignment, resolution and notification.
    This allows the users to track leads,closely watch opportunities and get an accurate forecasting of all projects.
    This module offers several significant features that enable you and your staff to monitor and control your supplier and customer relationships effectively, such as delegating issues to the most appropriate people, keeping a history of communications and events, qualifying prospects and detecting problems.

Key Features
Trace Leads and opportunities -Manage your sales team, sales funnel, and track your best leads and opportunities up to the sales order
Plan Meeting and phone calls-Follow up your opportunities efficiently, shared calendar of meetings, logs of calls, sales task etc..
Outlook and Thunderbird plugins-synchronize your emails with odoo CRM create new leads form outlooks, zoom the customer or document
Speedy Scheduling-Odoo CRM allows you to schedule activities based on sales scrips ie,calls, meetings, and quotations,etc.
 Key Features
Get real time statistics-Get accurate forecast with the odoo CRM buisness intelligence engine to analyse your sales activities.
Acquire leads-Odoo CRM provides an email gateway, website integration, forms and plugins to create leads automatically through web services
Run marketing campaigns-Odoo CRM allows you to automate your lead processing using marketing campaigns that automate emails or paper mails
Be Mobile -Odoo CRM calendar is synchronizing with iphone, ms outlook and android.
CRM PIPELINE OVERVIEW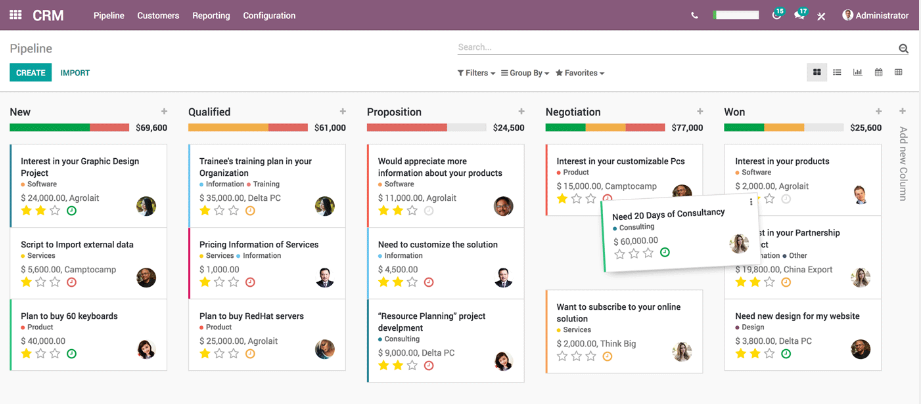 REAL TIME PERFORMANCE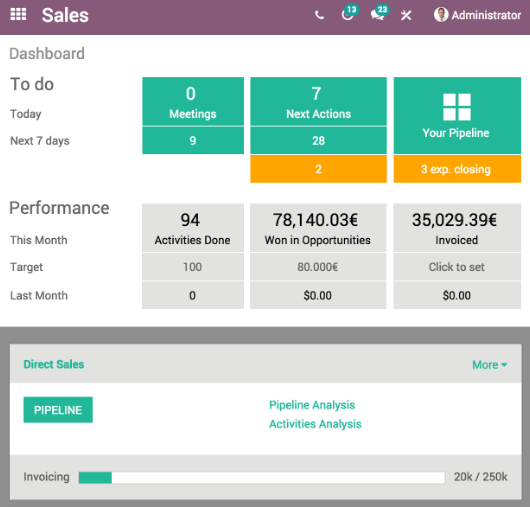 EASY ACTIVITY SCHEDULING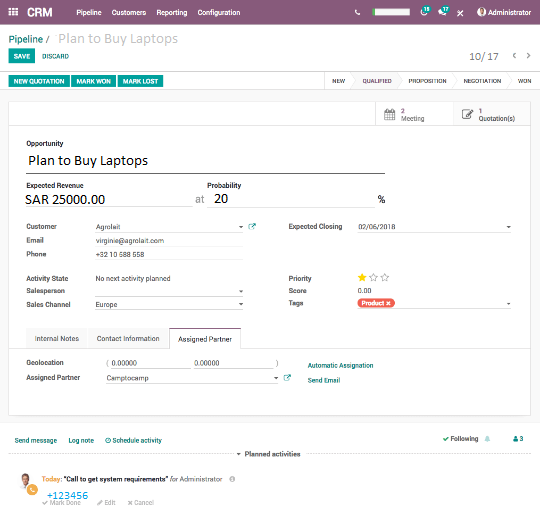 EASY FOR PIPELINE ANALYSIS