Travel ERP Software Saudi Arabia
Tours And Travels Management
Project Info:
Drive a rich customer experience with the aid of Odoo Open ERP designed specifically for the travel sector. Our technology solution is crafted to derive immense value in every stage of the routine operations in this particular segment. The end to end solution also integrates hotel booking, transport and other associated services involved in your customer's journey from source to destination. The systemic totally safe for online transactions and improves the overall user experience for your customers. Eliminate costly overheads, remove staff dependency, brings down the time taken to carry out routine tasks, avoid human errors and save man-hours with the automation of the tools and grow your business tremendously.
Our Endeavor Features Of Your Endeavor Dreams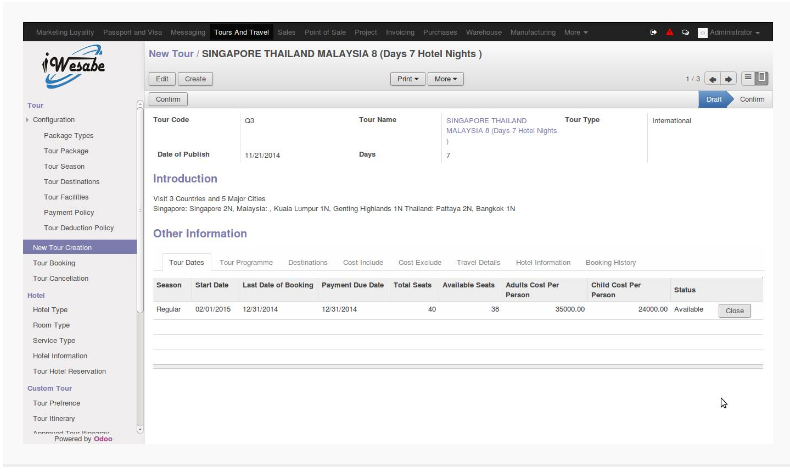 Tour Creation and Configuration
•Tour Wise Leads data capture

•Provision to link Agent Name for each of the Lead
•Agent Wise/ Direct Lead Generation report for a given period of time
•Integration of CRM & Tour Booking process
•Insightful analysis of Leads throughout the sales process
Tour Booking
•Setting up and administration of multiple solutions and services - flights, hotels, dynamic packages, and more
•Configuration of individual tour
•Provision to list day-wise Tour Plan for better management
•Capturing crucial details like Destinations Covered, Hotels for Stay, Destination wise site seeing listing
•Provision to define various services offered in an organized Tour for successful outcomes
•Book individual Tour Package
•Manage availability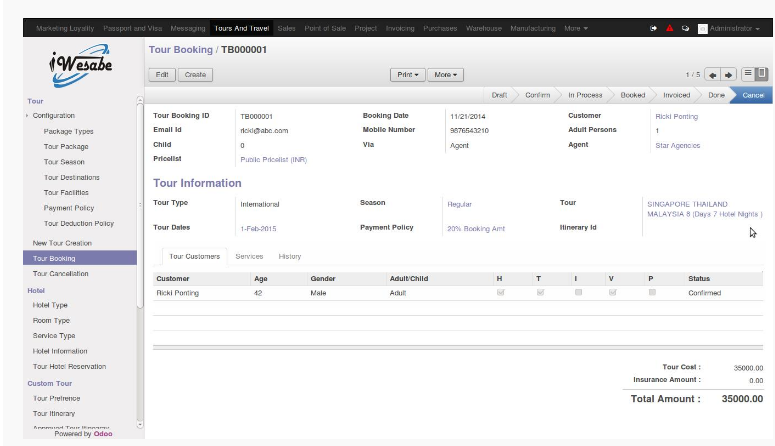 Hotel Reservation
•Auto Generation of complete Hotel Booking Task Records based on the Tour Booking records
•Easy monitoring and complete control on the completion of Hotel Booking record
•Maintaining passenger details for Hotel Room Booking
•Provision to define Hotel Type, Room Type offered in a tour package
•Automated invoicing for both Suppliers & Customers based on the Hotel & Room Type selected.
Transport Booking
•Specific control over both types of transportation (Inbound, Outbound)
•Integrating Transport Class from the Travel Modes
•Quick, easy and comprehensive booking details for each of the passenger in a booking reference.
•Auto generation of Transport booking records from Tour Booking ID Reference
•Automated invoicing for both Suppliers & Customers
•Provision to maintain records against Tour Booking ID & Individual record for Hotel Booking Facility only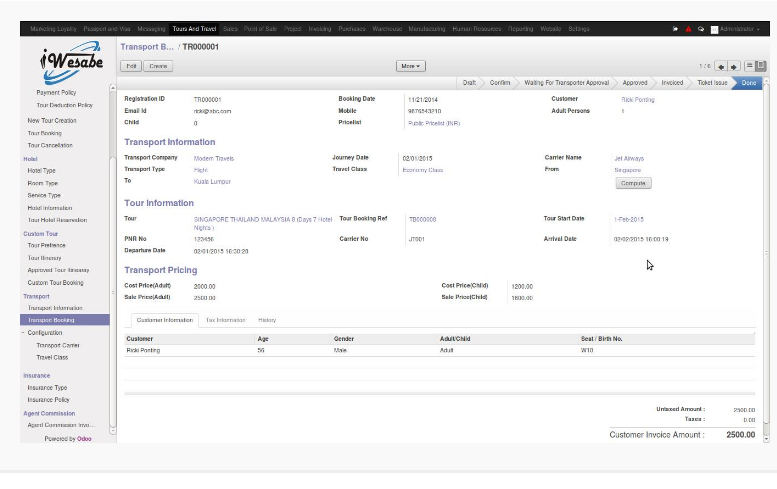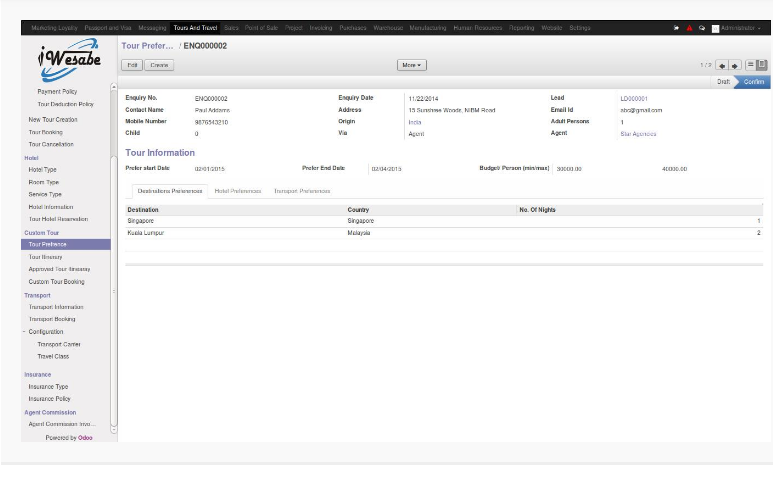 Customer Inquiry
•Integration of third-party Passport Services with Tours & Travel Management for timely update on passport enquiry
•Provision to define pricing policies for various types of Passports
•Linking of scanned documents provided by the customers for Passport Processing
•Records can be filtered based on the various stages of each Passport Processing task (i.e. draft, confirmed, verified, submitted to Passport Office, Passport issued etc.)
Custom Tour Itinerary Management
•Linking of third-party Visa Services with Tours & Travel Management
•Provision to define pricing policies for various types of Visas (Business Visa, Tourist Visa etc.)
•End to end visa processing integrated within the system, including scanning of the documents
•Auto Creation separate Visa Task for each passenger based on the no. of countries involved in tour that the customer has booked
•Auto generation and database of Expense Note/ Receipt note for the Expense/ Receipt of money for Visa & Passport processing